Henning Larsen Architects, KPMB, and SLA convert a Toronto airport into a new city for 83,000 people with 1m sqm of commercial space and 40 hectares of parks with the guiding concept of 'City Nature'
Global Design News
Published September 26, 2022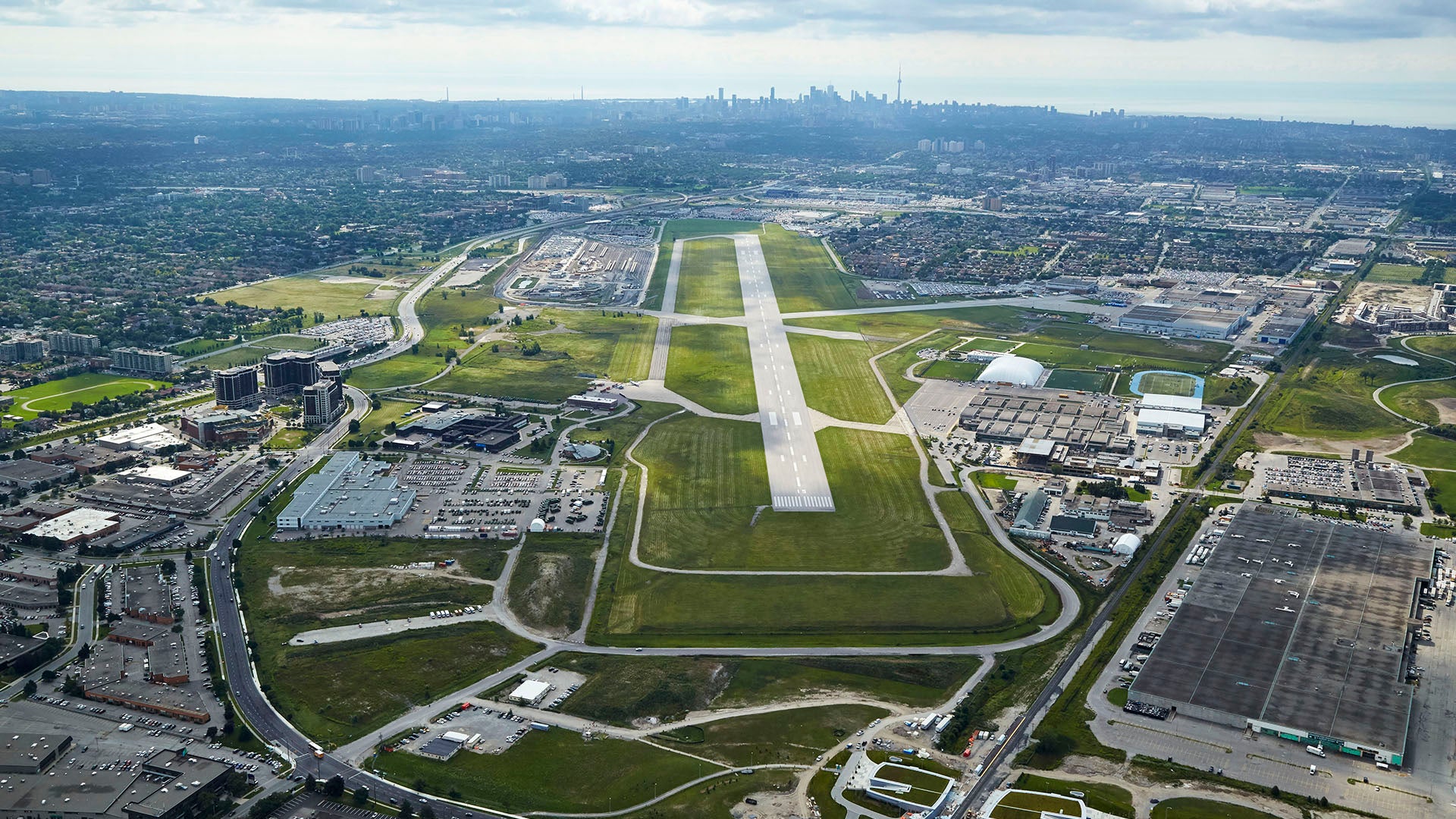 View original Global Design News article here.
"In Downsview, we introduce a whole new hierarchy for how to design our cities and our communities," says Rasmus Astrup, SLA Partner and Design Principal.
"By putting nature first, we create a new way of living in Toronto centered on biodiversity, climate resilience, local identity, and strong community. We call this design approach 'City Nature."
European Prize for Architecture laureates Henning Larsen Architects and KPMB along with landscape architects SLA and urban planners Urban Strategies, Inc. are set to launch their masterplan for Northcrest Developments and Canada Lands Company to transform and convert an airstrip outside of Toronto into a new residential district.


The new masterplan for Downsview in Toronto–a development that concerns the 520 acres (approx. 2 million m2) of the former Bombardier Airbase—will create a new hierarchy between nature, public space, buildings, and infrastructure.
Located 15 kilometers northwest of Toronto, the former airbase will be transformed into a residential and commercial district with strong transport connections to the city.
The master plan's guiding concept is "City Nature."
Downsview today is divided by roads, rail lines, and airbases.
As the airbase prepares to end operations in 2023, the site (roughly the same size as downtown Toronto) offers an enormous opportunity to craft a green, connected, and welcoming neighborhood for the rapidly growing city.
Rather than concentrate natural space in one area (as the existing Downsview Park does), wild areas are scattered across the site, threaded together by the former runway which will be reborn as a pedestrianized spine for the entire development.
Two large north-south roads run parallel to this central axis, offering easy access to key parts of the development while also keeping the central spine focused on the human scale.
And across the site, park space abounds—nearly 20% of the site will be dedicated to nature.
"We haven't invented anything new," states Michael Sorensen, partner at Henning Larsen Architects.
"We've just taken kind of the best of all worlds, and now put them together into a new framework."
"So this is almost quite the opposite of suburbanization."
Since 2018, the team has engaged extensively with local residents, Indigenous rights holders, and city-wide stakeholders to develop a comprehensive plan for these lands.
Following a year-long, three-phase community engagement process (made digital by Covid-19 restrictions), the master plan outlines ten points to drive the development process, ranging from the design-focused to the economically oriented.
The recently released Framework Plan articulates this shared vision, setting the stage for a series of mixed-use communities where daily needs—work, play, community facilities, and amenities—are met within a 15-minute walk, roll, or bike from home.
In Downsview, one hundred acres of new open space will slice through the neighborhoods, creating small and mid-sized parks that carry rainwater, migrating species, cyclists, and kids at play—together with 50,000 units of housing for 83,000 people and more than 41,000 jobs by 2051.
Ten districts of housing units will be primarily in mid-rise structures (geared towards maintaining a comfortable sense of scale) that meet or exceed affordable housing requirements.
The plan outlines the greenspace and redevelopment of the railroad along with the implementation of the districts, but the official number of buildings on the site has yet to be approved by the city.
These residents and workers will enjoy a more sustainable and human-scaled approach to density and be supported by 40 hectares (100 acres) of new parks and open spaces—including The Runway: a 2.1 kilometre public space, iconic destination and community connector.