Northcrest Developments and Canada Lands Company's Downsview Framework Plan wins coveted Toronto Urban Design Award
News Wire
Published September 14, 2023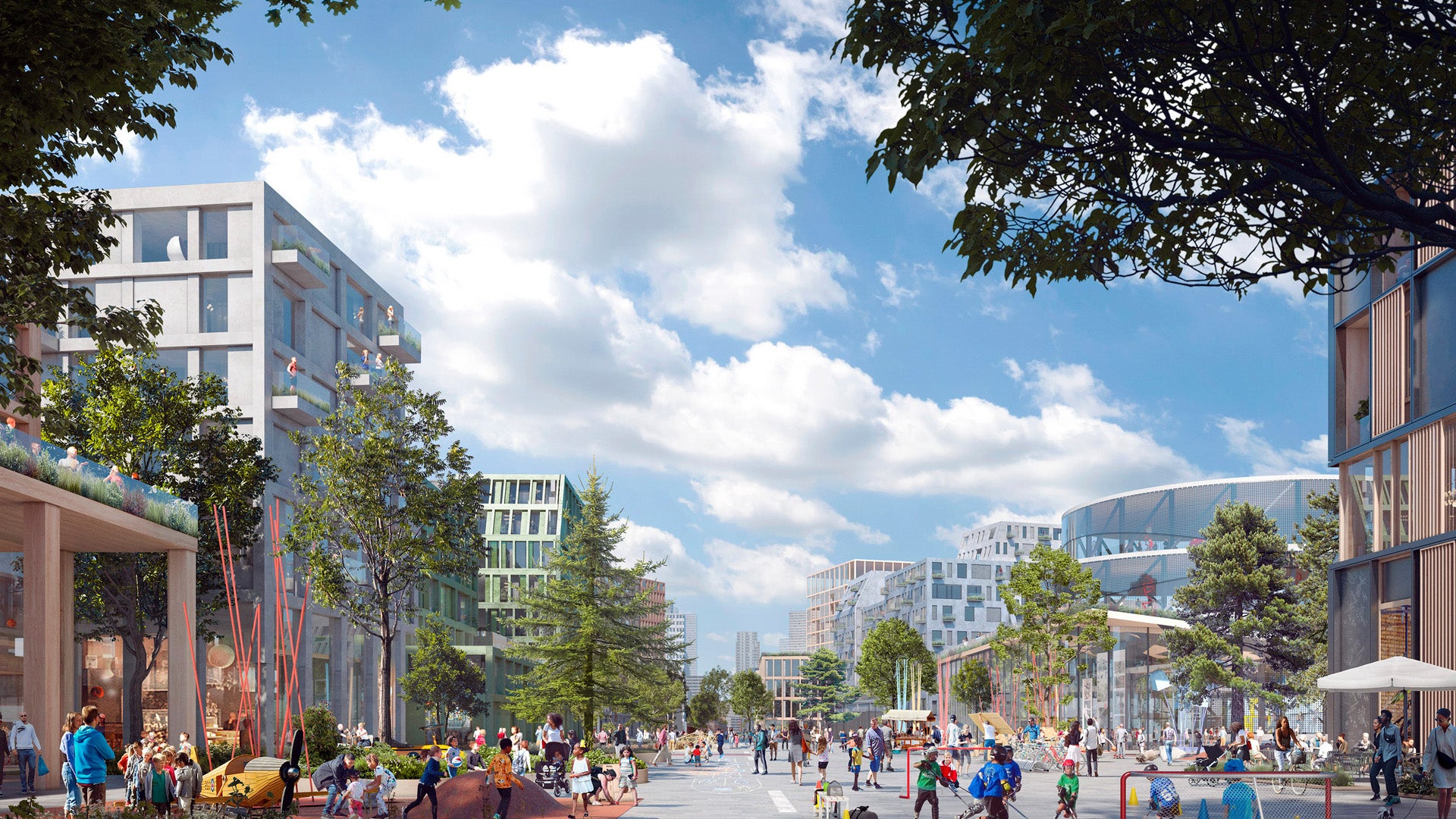 View original News Wire article here.
The Framework Plan was awarded the Toronto Urban Design Award of Excellence in the Vision and Masterplan category for the valuable contribution and significant impact it will have on Toronto.
The blueprint guiding the Downsview Framework Plan, one of the most significant city-building opportunities in North America, has been awarded the 2023 Toronto Urban Design Award of Excellence in the Vision and Masterplan category. The Framework Plan encompasses 520 acres, comprised of the 370-acre former Downsview Airport Lands, and portions of the former CFB Downsview, owned by Northcrest Developments and Canada Lands Company, respectively. Spearheaded by the landowners, the Framework Plan has been designed by a world-class team of international and local architects, designers and planners that includes Henning Larsen, SLA, KPMB and Urban Strategies Inc.
"This award is a powerful acknowledgement of our commitment to a more sustainable, inclusive and brighter future – one that aspires to set a new benchmark in North America," says Derek Goring, CEO at Northcrest Developments. "We're grateful to the thousands of community members and stakeholders who have helped shape this Framework Plan and we look forward to our continued collaboration."
"The Framework Plan is the result of a forward-thinking, collaborative effort with the community, the city and our partners at Northcrest Developments that will make a positive impact locally and beyond. Together, we are charting a course towards more vibrant, thoughtful and resilient communities," says Stéphan Déry, President and CEO at Canada Lands Company.
The Framework Plan is centred on a vision for low-carbon, inclusive, equitable and sustainable mixed-use neighbourhoods. From the beginning, the public realm was envisioned as the central element inspired by and creating connections to the city's ravine system and other surrounding open spaces, including the Downsview Park.
One of the Framework Plan's defining features is the 2-km long, all-season runway, reimagined as a pedestrianized open space that will be activated by community-led initiatives and interspersed with large urban parks. This, with the ~3-km Green Spine – a dedicated north-south cycle and pedestrian path spanning the entire length of the site– as well as other local parks and open spaces, create 100 acres of new open spaces, ensuring all residents will be within a five-minute walk of a park or open space.
"The Framework Plan is a once-in-a-lifetime opportunity to reimagine urban living and create a legacy for generations to come. Our approach intertwines the built environment and nature, creating a profound sense of place and identity across this expansive site," says Michael Soerensen, Partner, and Design Director at Henning Larsen.
"This recognition shows that designing urban spaces in concert with nature and all its elements from the start is how we create resilient, climate-positive communities. We're at the beginning of an exhilarating new development that will re-connect Downsview with new types of neighbourhoods and to legacy natural systems of Toronto," adds Kevin Bridgman, Partner at KPMB.
The Framework Plan also proposes the use of "blue-green infrastructure," where parks, open spaces, streetscapes, and rooftops work together as an integrated nature-based stormwater management system, even during extreme storm events, while enhancing biodiversity across the site.
"In Downsview, we introduced a whole new hierarchy for how to design our cities. By putting nature first, we create a new way of living in Toronto centered on climate resilience, local identity, and strong community. We call this design approach 'City Nature', and we're thrilled to see our collective vision for a greener and healthier future celebrated," says Rasmus Astrup, Partner and Design Principal at SLA.
Honouring the legacy of aerospace innovation, the Framework Plan retains and repurposes many of the existing industrial buildings to accommodate new uses. These and other mixed-use lands across the site will create thousands of new employment opportunities. New homes for 80,000 residents will be designed in a comfortable form of primarily midrise buildings, creating neighbourhoods with access to new facilities such as childcare, schools and community centres.
Furthermore, the Framework Plan leverages the existing high order transit in the area, including three subway stations and a GO station, and enhances further connectivity with new streets, rail crossings and active mobility corridors.
"The Downsview Framework Plan is a transformational opportunity for this part of the city, inspired by Toronto's rich natural landscapes and reflecting the voices of its diverse communities. We're proud to be part of a team that has developed a made-in-Toronto approach to sustainable development that puts people first," says Emily Reisman, Partner of Urban Strategies Inc.


About Northcrest Developments

Northcrest Developments is leading the master planning and redevelopment of the 370 -acre Downsview Airport Lands. The project is one of the largest mixed-use developments in North America and will be carried out over the course of 30 years, working closely with local communities, Indigenous Peoples and a diverse set of stakeholders. Northcrest is a wholly owned subsidiary of the Public Sector Pension Investment Board ("PSP Investments"), one of Canada's largest pension fund managers. PSP bought the 370-acre site from Bombardier Aerospace in 2018.
About Canada Lands Company

Canada Lands Company is a self-financing federal Crown corporation that specializes in real estate development and attractions management. Since 1995, Canada Lands has enriched Canadian communities and experiences by embracing the full potential of the properties it owns and operates. Canada Lands is a leader in attractions management with its operations of the CN Tower and Downsview Park in Toronto, the Old Port of Montréal and the Montréal Science Centre. Canada Lands Company strives to enhance economic, social and environmental value for Canadians. It has delivered more than $1.2 billion in economic benefits to Canada since inception. https://www.clc-sic.ca/